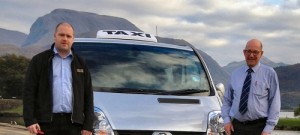 A bit about us. . .
West Highland Taxis are based in Fort William and Kinlochleven, on the picturesque West Coast of Scotland. At present, we have a full-time driver situated in Fort William and another full-time driver in Kinlochleven, thereby reducing waiting times significantly. Fort William and Lochaber is ideally situated for all of the major Scottish airports, Ben Nevis and the Great Glen and West Highland Ways. Our current fleet is modern, luxurious and, above all, reliable. Our vehicles are regularly serviced and kept in top order, as per local authority guidelines.
Leading the company is local man, Jamie Blackburn. Jamie has been driving taxis in the Fort William and Lochaber area for over twenty years. There are few places that Jamie doesn't know about and can recommend some fantastic walks in and around the area for you to enjoy. Gavin is our part-time driver, helping out when he can. Even though he hasn't been with us for all that long, his utmost professionalism and dedication to the job has not gone unnoticed. We have had several emails telling us what a great experience they had with Gavin behind the wheel.
Our Fleet
As of January 2018, our fleet consists of two 8-seaters and one 6-seater.
2016 Mercedes Vito 8-seater
2014 Renault Trafic Passenger 8-seater
2013 Ford Galaxy Titanium 6-seater
All of our drivers are friendly, and knowledgeable about the Lochaber and Highland areas in which we operate. In addition, they all possess current, clean Disclosure Scotland background checks, giving you additional piece of mind about your driver.
Taxis are not available after midnight, unless by prior arrangement.